March 2023

Luxury shoppers are getting younger while sales are increasing.1 Newton Investment Management's global analyst Maria Toneva says it's a combination of the ability and willingness to buy luxury items that is fueling this trend – and it isn't stopping any time soon.
Highlights

The average Gen Z consumer made their first luxury item purchase at age 15.2
Global luxury sales grew more than 20% in 2022.3
"Hard luxury" like watches have fared particularly well in recent years.4
Gen Z and Millennials are the biggest force behind luxury spending, with Gen Alpha5 poised to follow in their footsteps. The typical Gen Z consumer started buying luxury items at 15 years old, which is about three to five years younger than the average Millennial.
Inflation, rising interest rates and recession fears haven't stopped the young cohort of shoppers from pampering themselves. In fact, it's estimated that global luxury sales grew more than 20% in 2022 and is expected to rise 3% to 8% in 2023.6 Revenue is edging upwards too, with nearly US$387 bn projected by 2025.7
"Having both the ability and willingness to spend has increased," notes Newton Investment Management global analyst Maria Toneva. "That's why we're seeing growth in luxury not diminishing despite fear of economic slowdown."
GLOBAL LUXURY GOODS MARKET REVENUE 2012-2025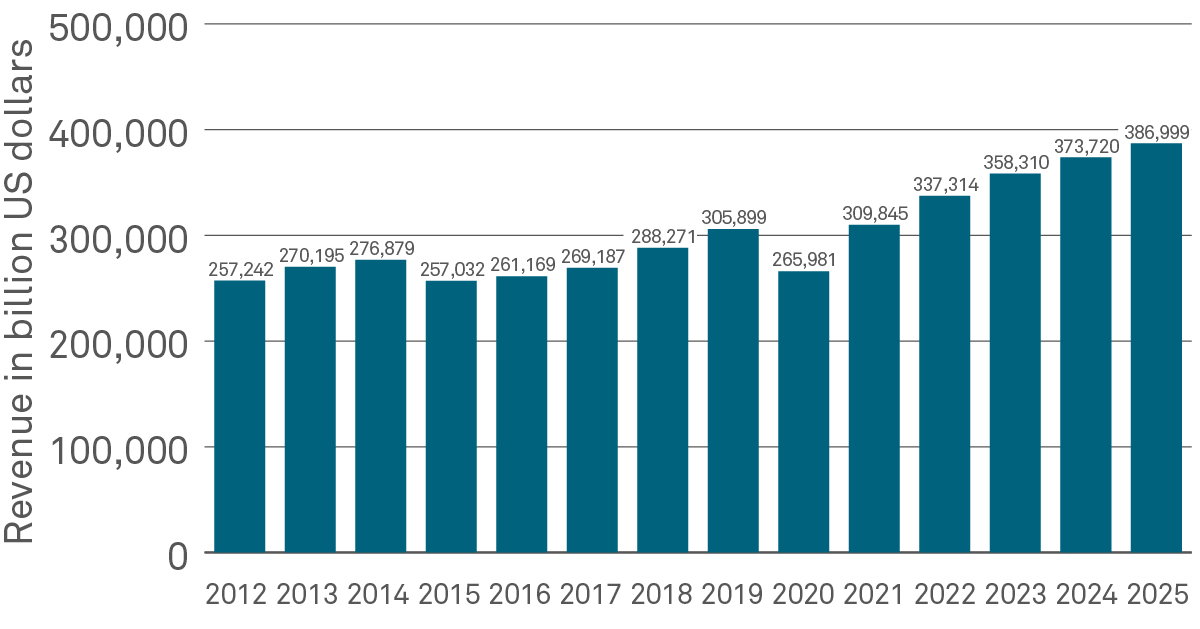 How can Gen Z, Millennials afford luxury brands?
One of the reasons Gen Z and Millennials are purchasing luxury goods is simply because they have the means to do so. Some young adults have managed to save a considerable amount of money by having roommates named mom and dad.
Nearly half of Americans between the ages of 18 to 29 live with their parents,8 as do almost a third of 20 to 34-year-olds in the UK.9 Not paying rent or a mortgage, or even buying groceries, has meant the money can be put toward other things.
PERCENTAGE OF 18 TO 29-YEAR-OLDS IN US LIVING WITH A PARENT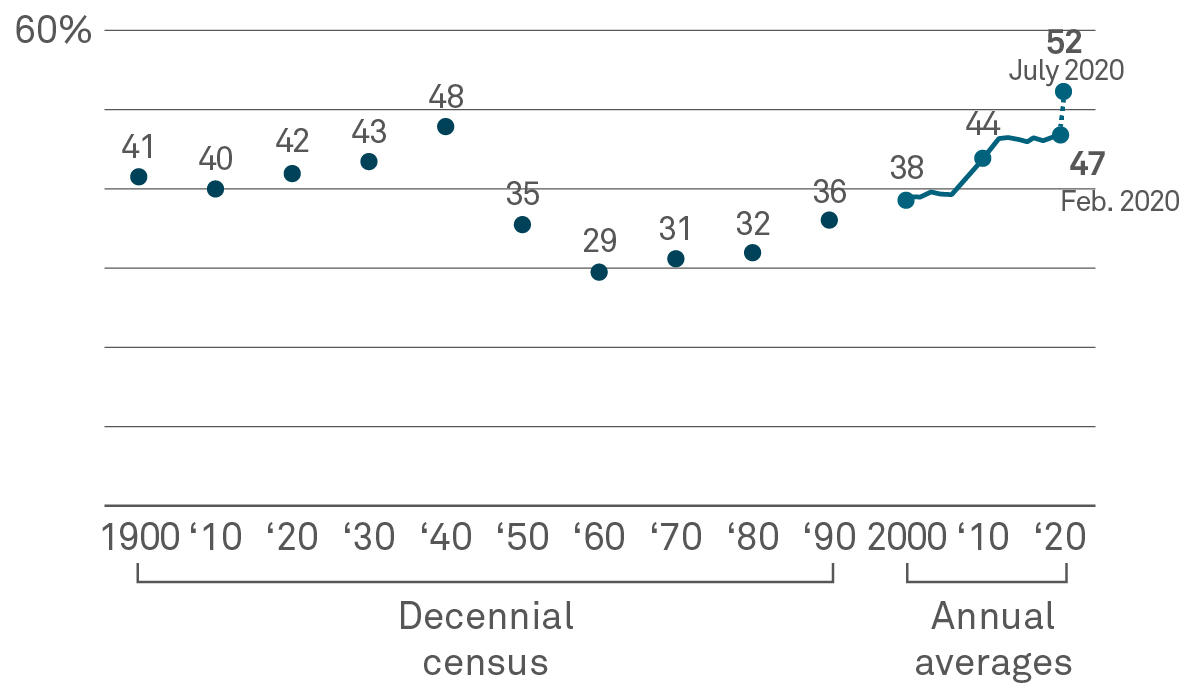 During the height of the Covid-19 pandemic, people were in lockdown and couldn't spend money on activities. In the US, there was government-led stimulus and an increase in the child tax credit which also contributed to more savings. Furthermore, federal student loans have been in forbearance since March 2020.
This trend is evident in Asian countries too. With lockdown restrictions easing in China, there is pent-up demand. "Luxury spending in China is coming back with a vengeance," says Toneva.
Like in the US and UK, household dynamics in China are contributing to young adults feeling flush. While the one-child policy has been relaxed, families are still predominantly one child. "They (Gen Z and Millennials) are the children of six incomes. Mother, father and two sets of grandparents," notes Toneva.
FOMO (fear of missing out) plays a part
Some may say Gen Z and Millennials are synonymous with social media. This powerful tool combines connecting people, experiences - and brands. While glossy magazines and billboards aren't obsolete, social media is literally at people's fingertips.
"Luxury brands are still advertising in print media, but also on social media, which did not exist years ago," says Toneva. "This has lowered the bar to how visible these brands have become. It's more in your face than it used to be."
Being bombarded with images of friends and family with trendy items on social media may increase the pressure10 to keep up with the Joneses – or the Kardashians for that matter.
Even if consumers aren't feeling pressure to "keep up," social media makes it easier to see products in use and get recommendations from people they trust – whether that be a personal connection or influencer. Some influencers will tag items in posts so consumers can buy the exact product directly through the platform.
PERCENTAGE OF PEOPLE WHO HAVE MADE A PURCHASE BASED ON A RECOMMENDATION FROM A SOCIAL MEDIA INFLUENCER OR CONTENT CREATOR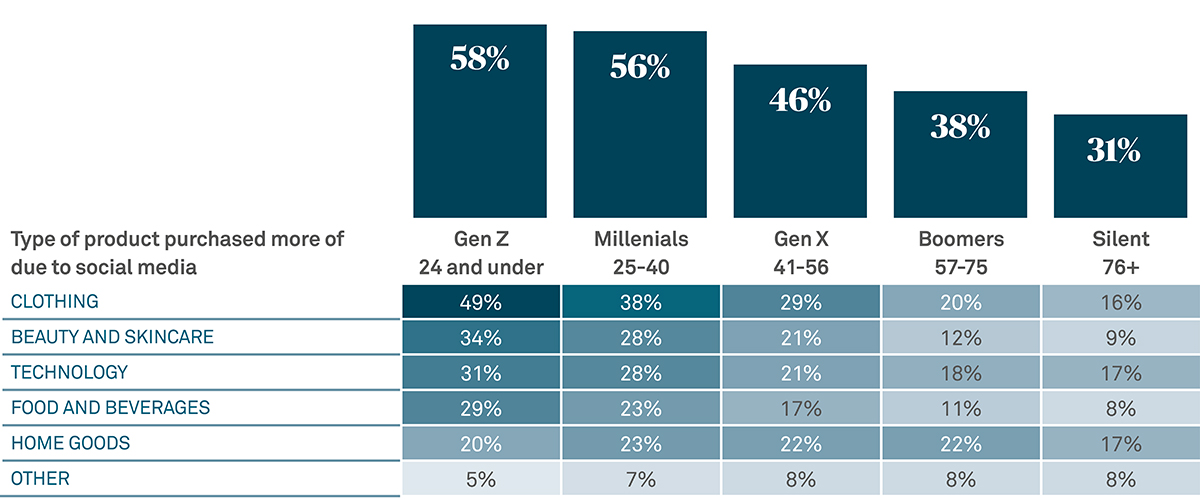 In 2021, the #CheapestThing challenge took off on TikTok. The trend was all about getting luxury on a budget. Influencers to every day people were showing off the #CheapestThing they could buy – no matter how small – from luxury brands. This was a challenge that encouraged luxury at a price point within reach for some younger consumers.11
Entering the luxury market
Once a consumer falls in love with a brand, they're a customer for life, or at least that is what many marketers strive for. The #CheapestThing challenge is an example of introducing a consumer to a luxury brand – one in which they will hopefully "upgrade" with overtime.
"First you buy the key chain, then the more expensive bracelet, then you go for the pricier scarf," says Toneva. "Then in a few years you get the bag, which can cost hundreds or even thousands of dollars."
'Hard goods' luxury most popular
Luxury products can be broken down into two types: Soft (ie. clothing and handbags) and hard (ie. watches and jewelry). High-end watch retailers, for example, have done a good job of restricting supply and coming up with limited edition items that have enticed consumers, according to Toneva.
Not only are these ostentatious items a status symbol, they tend to have high resale value because supply is restricted.
"The watch industry has become known as a good storage of value," says Toneva. "If you look at the prices in the secondary market for luxury watches, they have gone up. There are a few websites where you can sell high-end watches second hand and it immediately appreciates in value because of the limited supply."
As part of Newton's research process, portfolios use analyst inputs on companies, sectors, themes and trends to deliver insights aimed at helping to generate investment outcomes. Both analysts and portfolio managers at Newton have access to innovative capabilities, from investigative research by former journalists through to specialist insights on ESG (environmental, social and governance) issues, as well as expert analysis of private markets.