July 2023
 
Celebrity use has raised the profile of the latest diabetes drugs but this may not be the fad it seems. Helping obese patients get their condition under control could save the US healthcare system billions of dollars. With multiple diabetes drugs showing weight loss benefits, Newton healthcare analyst Matthew Jenkin says for the first time there may be an anti-obesity agent that is not just a trend.
 Highlights
Obesity costs the US healthcare system US$173bn annually1 
Global anti-obesity drug market is expected to reach US$5,407.1m in 20262 
Patients have lost as much as 21% body weight while taking some newer diabetes medications3
From Hollywood elite to social media influencers, medications initially intended to ameliorate symptoms associated with type 2 diabetes is gaining popularity among those trying to lose their love handles.4 Now, the popular semaglutide medications are in short supply.5
Diabetes and weight loss connection
In the last several years, a few companies have developed glucagon-like peptide 1 (GLP-1) medicines to treat diabetes. More recently, one company in particular added a second mechanism. The original goal for these medicines was to treat diabetes, but they have also been shown to give hope to those battling obesity.
The diabetes medication is taken as a weekly injection that patients administer themselves with a pen-like device. These drugs help in both lowering blood pressure and weight loss, making them potentially a real game changer, according to Jenkin.
"With the early drugs, patients would lose anywhere between 5 and 7% of their body weight over the course of 18 months," says Jenkin. "In one case with the newer drugs, a significant portion of the patients got to healthy blood sugar levels and lost as much as 21% of their body weight at 18 months."
The medication isn't just a fad. "The patients that are on drugs are not plateauing," notes Jenkin. They are not losing lean body mass, they are actually losing fat."
Financial burden of obesity
More than one billion people globally are obese – and that number is growing.6 Being pudgy is more than an issue of vanity as the condition is associated with a myriad of ailments including type 2 diabetes, cardiovascular disease and hypertension.
"If you can materially bring down people's weight and at the same time control their diabetes, think about all the complications, like heart attacks, that you'll save the healthcare system in money down the stream," says Jenkin. "The costs an obese, diabetic patient presents to the healthcare system is enormous when they get to the point they are having cardiovascular and other problems."
Treating obesity as a metabolic disease
In the US alone, obesity costs the healthcare system US$173bn a year, which could help make anti-obesity drugs a major category in the pharmaceutical sector. In fact, the global anti-obesity drug market is expected to reach US$5,407.1m by 2026.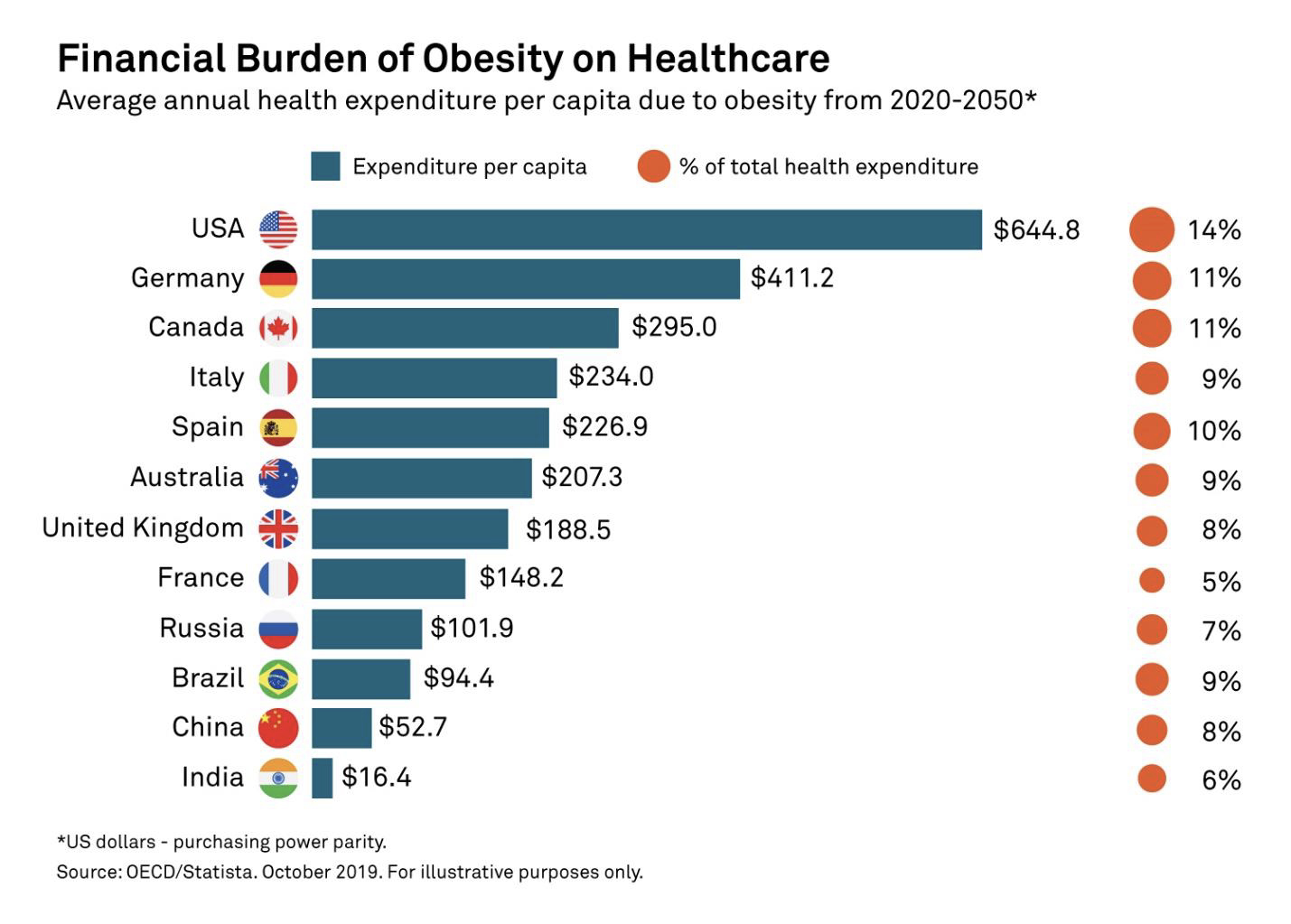 "What they (researchers) realized is the blood sugar lowering of these agents versus the old oral ones are two and three times as good at lowering blood sugar, but what they also do is increase satiety," says Jenkin. "Not only were these patients lowering their blood sugar in a pronounced way, but they were losing a fair bit of body weight."
This change is notable from previous diabetes drugs where weight loss wasn't as significant.
Historically obesity has often been perceived as a lifestyle choice, but views of the condition and how to manage it are changing. Obesity has been categorized as a chronic disease by the American Medical Association since 2013 and with that distinction comes potential for more insurers to cover treatments.7
"Overtime, armed with these new medicines, we expect physicians to treat obesity as a disease versus a behavioral choice," says Jenkin. "If the biopharma companies that make these medicines can prove the weight loss drives improved outcomes to patients in the long run, like less heart attacks, hospitalizations and deaths, then insurance companies and governments will cover a large portion of the patient expenses."