July 2023
 
The US healthcare system could be facing major financial changes with a shift from a fee-for-service model to value-based care. As this movement continues to gain momentum, managed care could offer value for those focused on long-term investments, says Newton healthcare analyst Matthew Jenkin.
 Highlights
In 2021, US national health expenditure reached US$4.3 trillion, or US$12,914 per person. 1
Some data estimates the US value-based care market at US$3.22 trillion in 2021. 2
Medicare is among the major players transitioning to value-based care.
You get sick. You go to the doctor. The doctor runs a myriad of tests in an attempt to figure out what is making you ill. This is the common scenario played out for people in the US. In short, you go in and pay and you get a service. This is the formula which underpins the traditional US healthcare system, known as fee-for-service.

As healthcare prices continue to swell, some are shifting gears and investing in value-based care, sometimes referred to as an alternative payment model (APM), to drive down costs by eliminating unnecessary tests and services while paying bonuses to providers for high-quality outcomes.
What is value-based care?
Unlike traditional follow-up care, value-based care places an emphasis on preventative measures to keep conditions at bay before they become serious. This model stresses using data and accountability, making the provider care about downstream outcomes. This could ultimately result in saving money on services ranging from repeat doctor visits to hospital admissions.
"It's essentially the government or a commercial payer giving a provider a certain amount of money on either the per month basis or per year basis for you to save money and improve quality metrics. Within that amount of money, healthcare providers have to manage your care over the course of the year," says Jenkin. "If the provider does that, they can get bonus payments on top of the original annum payment. In a lot of ways, it caps the amount of money that could be spent on you for the care you need."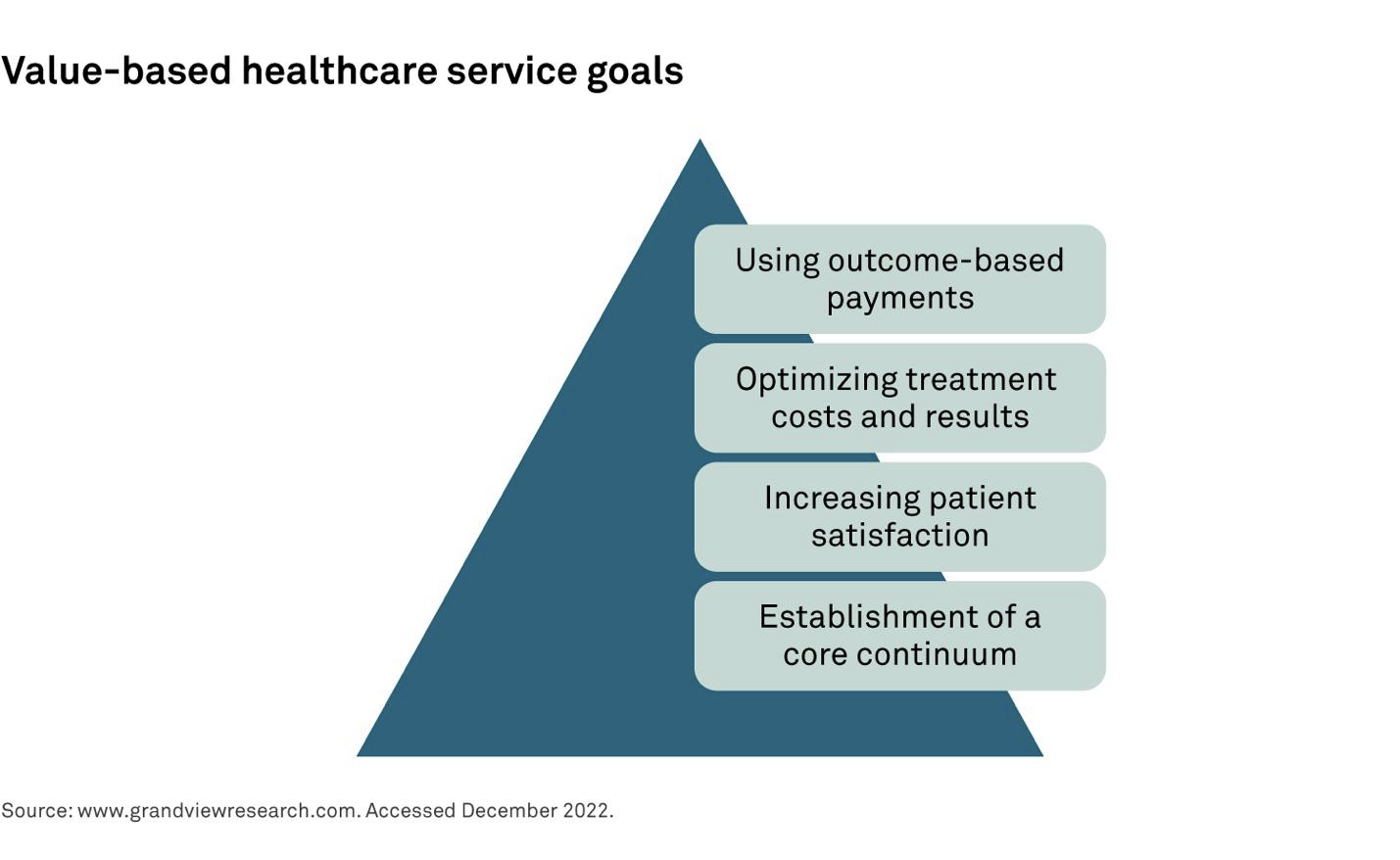 With a value-based care model, Jenkin says historical benchmarks (data) are used based on the histories of people with similar conditions. "The quality has to go up. Providers are incentivized to meet or exceed benchmarks in terms of quality, which means no repeat visits, no repeat hospital admissions. The issue is taken care of on the first try, not the tenth," he adds.
Value-based care gaining traction 
US healthcare costs - and spending - are on the rise and could be considered a key factor in the upswing of value-based care. In 2021, US national health expenditure reached US$4.3 trillion or US$12,914 per person. Medicare and Medicaid costs also edged upwards in 2021, hitting US$900.8 billion and US$734 billion respectively.1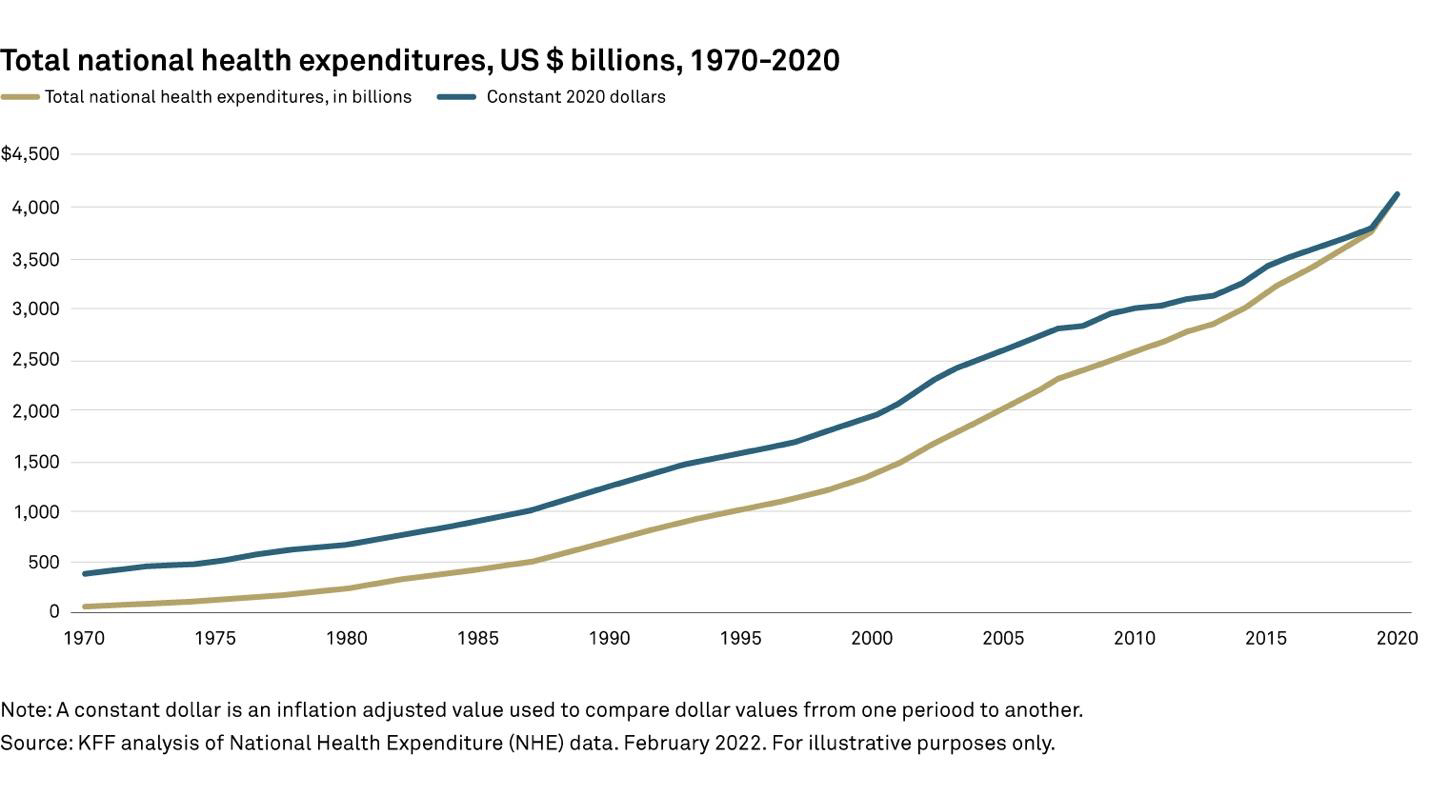 Some data estimates the US value-based care market at US$3.22 trillion in 2021, which is expected to expand at a compound annual growth rate of 7.5% from 2022 to 2030.2 "Value-based care has been around for about five or six years, it's growing in penetration," notes Jenkin.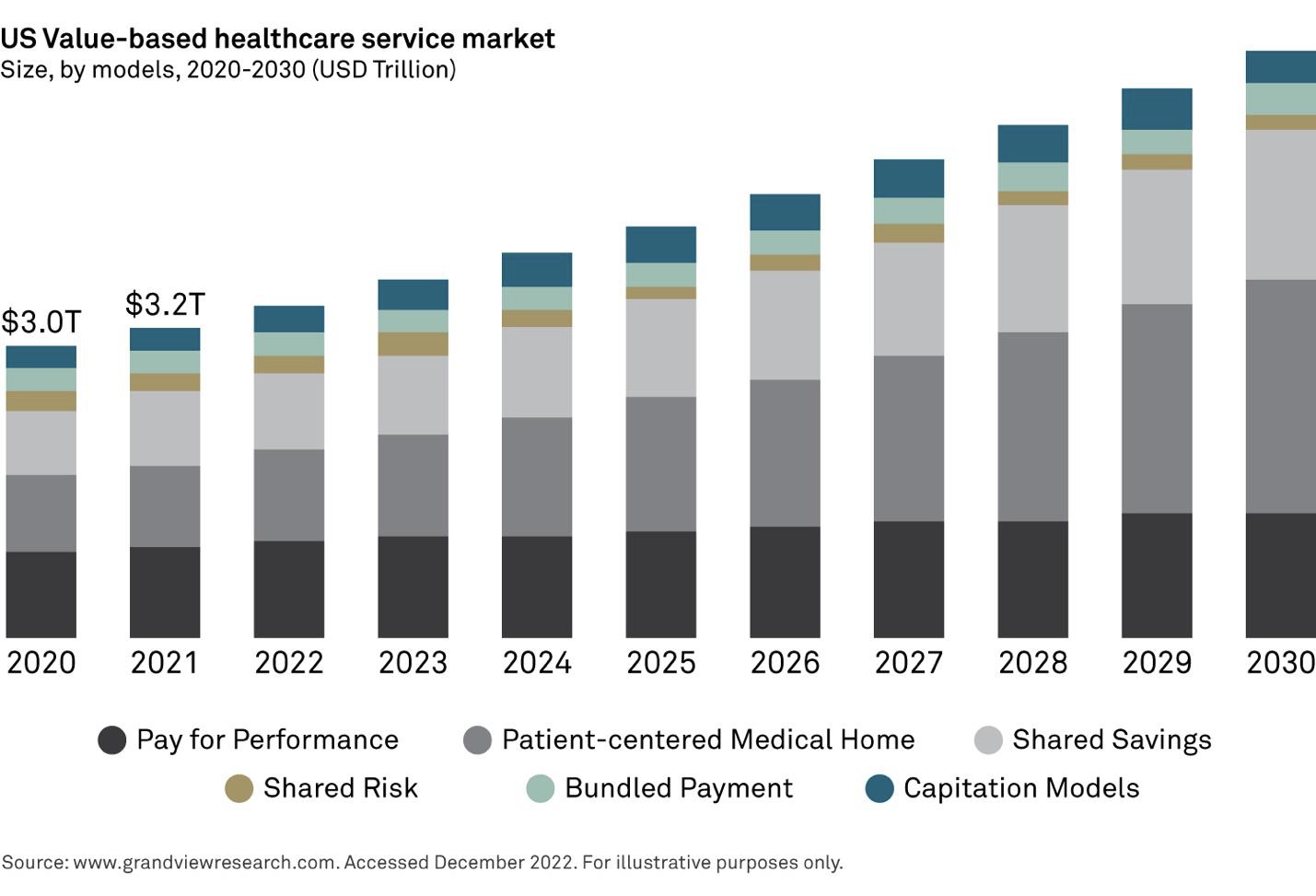 Medicare, some private providers adopting the model
As the US healthcare market continues to evolve there have been several programs implemented by the government to supports value-based payment methods. As of January 2023, some programs include: 
Hospital Readmissions Reduction Program (HRRP) 
Hospital Value-Based Purchasing (VBP) Program 
Hospital-Acquired Condition (HAC) Reduction Program
Medicare is one major player making the shift toward value-based care. The Health Care Payment Learning and Action Network (LAN) is a group of healthcare leaders established to provide strategic direction for the adoption of APMs. LAN hopes to increase the number of US healthcare payments tied to value through two-sided risk APMs.3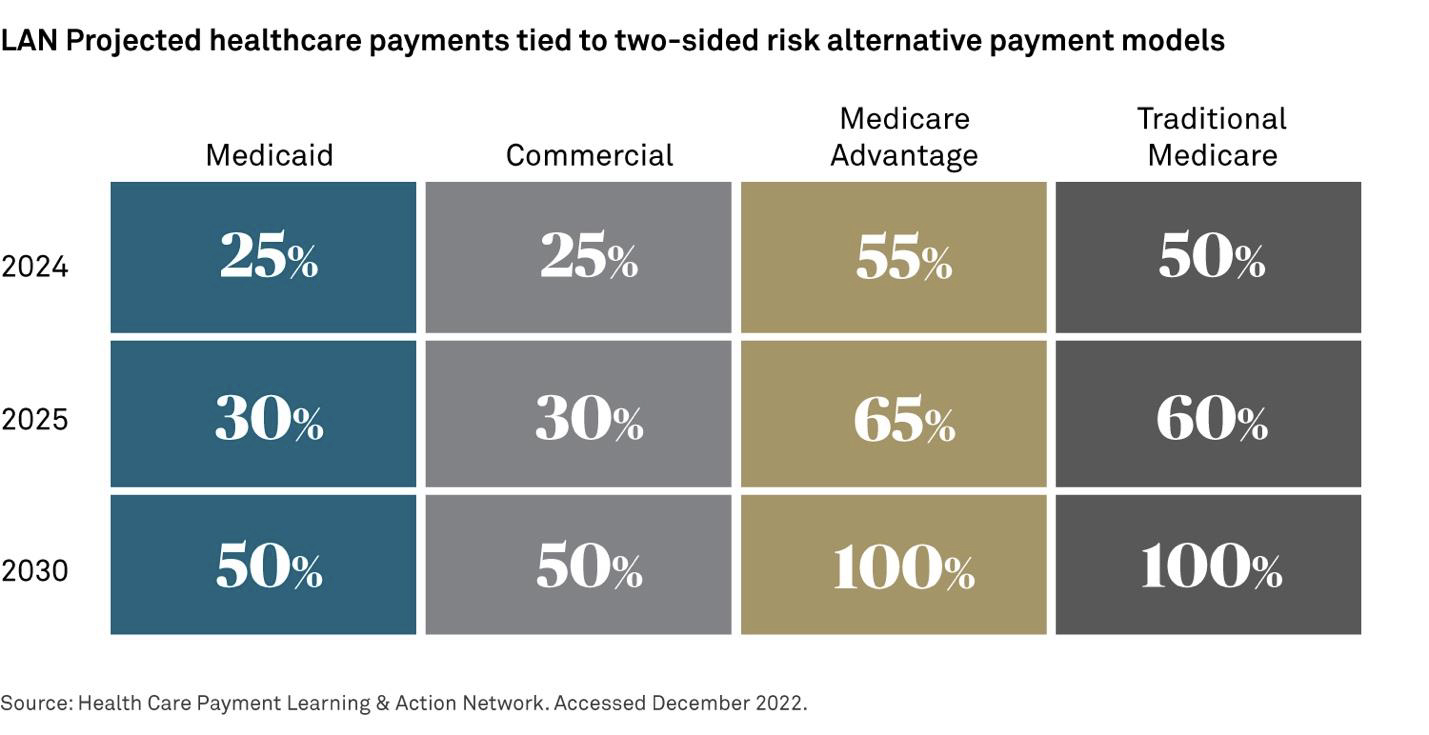 Big box retailers, private insurers investing in primary care
Recently, several big-box retailers have started investing in value-based care. In 2021 Walgreens partnered with VillageMD and in 2022 Amazon acquired primary care innovator One Medical. Private health insurers are jumping on the bandwagon, too, with major players like UnitedHealth Group and Humana among them.
Ultimately, the objective of value-based care models is to keep people healthy and out of the hospital where costs are highest. It's predicted data and quality metrics will pay an increasingly important role if payors and employers shift services to providers who can prove better outcomes – whether that is a surgeon or a device manufacturer. Moving away from a fee-for-service model could ultimately help the US manage its ever -increasing healthcare costs.