The BNY Mellon Brokerage Account is a high quality and cost effective way to manage your investments. You can trade and control your investment portfolio online, with access to financial quotes, news, investment ideas, market commentary and more. Open an account.
SIMPLIFY YOUR LIFE. CONSOLIDATE YOUR FINANCES.
The BNY Mellon Brokerage Account — with a roster of comprehensive tools and unique services — is a full-service brokerage account designed to help you confidently and effortlessly take control of your financial future. Call 1-800-843-5466 to learn more.
Position yourself for financial success — put an all-in-one investment resource at your fingertips.
ONE ACCOUNT, COMPREHENSIVE RESOURCES
The BNY Mellon Brokerage Account allows you to house all your assets, including retirement accounts, in one easy-to-manage investment account. The BNY Mellon Brokerage Account offers check-writing and debit-card privileges, online trading1 at competitive rates as well as consolidated statements to help you keep track of your future. Download a paper application or open an account online. Learn more about investing with us.
INSIGHTS AND REAL-TIME TOOLS
Our robust website features market/portfolio tracking tools, financial quotes, news, investment ideas, electronic delivery of statements and confirms, market commentaries and more.
INVESTMENT CHOICES
We offer a breadth of investments, including over 8,000 mutual funds from BNY Mellon and other leading companies, exchange-traded funds (ETFs), individual stocks and bonds, options, and the BNY Mellon Managed Asset Program.2
ALREADY A CUSTOMER?
Login to your account.
Please see our Form CRS Relationship Summary for additional information about our firm and the services we provide.
Contact Us
Brokerage Account Representatives are available Monday through Friday, 8:00 a.m. to 6:00 p.m. Eastern Time.

1-800-843-5466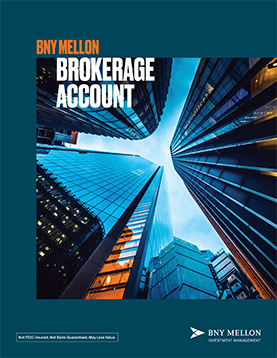 BNY Mellon Brokerage Account Brochure
Learn More about the benefits and features of the BNY Mellon Brokerage Account
Download Insight
All investments involve risk including loss of principal. Certain investments involve greater or unique risks that should be considered along with the objectives, fees, and expenses before investing. No investment strategy or risk management technique can guarantee or eliminate risk in any market environment.
Options trading involves significant risk and is not appropriate for all investors. You must receive from BNY Mellon Securities Corporation the latest copy of Characteristics and Risks of Standardized Options before you invest. Contact us to be approved for options trading. Before enrolling in the BNY Mellon Brokerage Account, please read the BNY Mellon Brokerage Account Client Agreement and Related Disclosures, and Fee and Commission Schedules.
1 Other fees and account minimums may apply. $8.95 per trade for the first 1,000 shares and $0.01 per share thereafter. See Fee and Commission Schedule for details.
2 Minimum account balance for BNY Mellon Managed Asset Program Mutual Fund Series is $25,000. Equity separate account portfolios within the Customized Investment Series require a $100,000 minimum. BNY Mellon Municipal Bond Series national portfolios require a $300,000 minimum and state-specific portfolios require a $500,000 minimum. Investors should speak with an advisor who can provide more information about the program, including the wrap-fee schedule, services provided, and suitability for a wrap-fee program. The wrap fee is charged in addition to fund-level fees.
This material has been distributed for informational purposes only and should not be considered as investment advice or a recommendation of any particular investment, strategy, investment manager or account arrangement and should not serve as a primary basis for investment decisions. Information contained herein has been obtained from sources believed to be reliable, but not guaranteed. Please consult a legal, tax or investment advisor in order to determine whether an investment product or service is appropriate for a particular situation. No part of this material may be reproduced in any form, or referred to in any other publication, without express written permission.
BNY Mellon Investment Management is one of the world's leading investment management organizations, encompassing BNY Mellon's affiliated investment management firms and global distribution companies. BNY Mellon is the corporate brand of The Bank of New York Mellon Corporation and may also be used as a generic term to reference the corporation as a whole or its various subsidiaries generally. The BNY Mellon Brokerage Account is offered by BNY Mellon Brokerage Services. BNY Mellon Brokerage Services and BNY Mellon Advisor Services are divisions of BNY Mellon Securities Corporation (BNYMSC), a registered investment adviser and broker-dealer, offering securities and managed accounts respectively. A member of FINRA and SIPC. BNY Mellon Securities Corporation is a subsidiary of BNY Mellon.
DRD-264338-2022-04-20