November 2022

Why do utilities, energy and airline operators face such high net zero transition risks compared to other sectors and how can investors help mitigate these?
Shunning the most carbon-intensive sectors will not help the world achieve net zero emissions, according to a report by BNY Mellon Investment Management and Fathom Consulting. The report's analysis finds the highest emitting sectors are, in fact, those most in need of investors' capital to address climate change.
According to the report, around US$100 trillion needs to be invested in lower-carbon infrastructure for the world to reach goals set by the Paris Accord. This sum includes around US$20 trillion of 'stranded' assets that will need to be scrapped or retrofitted before the end of their useful life.
The report, An investor's guide to net zero by 2050, estimates nearly half of all net zero specific corporate sector investment will need to come from companies in just two sectors – energy and utilities – even though together they account for just 6% of global market capitalization and face the highest transition risks.
But the report identifies an issue in that the sectors most in need of investment to achieve net zero goals are, at least in part, being shunned by some investors for the very same reasons.
It says simply selling these assets is not an effective strategy to address climate change because energy and utility companies remain essential to the global economy and need capital to survive and re-align with net zero. But the report also notes that companies in these sectors need to ramp up their spending on green assets significantly from current levels, if the Paris climate goal is to be met.
"Impact investors, ESG (environmental, social and governance) investors and sustainability investors need to consider these issues carefully – as do regulators, incumbents in these sectors and other stakeholders," says the report. "Divesting from these sectors will not solve climate change or ensure that the Paris goal is met. The utilities and energy sectors need capital, but they need to use that capital for green investment – and do much more of it than they have been doing thus far."
Analysis by the report's authors, Shamik Dhar, chief economist at BNY Mellon Investment Management, and Brian Davidson, head of climate economics at Fathom Consulting, scores the transition risk of 24 stock market sectors in relation to companies' exposure to carbon taxes, stranded assets and speed of transition. It finds energy and utilities, as well as airlines, carry the highest risk in relation to the net zero transition compared with other sectors. This means the bill carried by these sectors by not transitioning to net zero is likely to be higher than others.
Carbon taxes
Among these risks is the impact of carbon taxes under which companies are required to pay for each ton of greenhouse gas emissions they emit, according to a price set by the respective government. The report finds earnings of companies in all three sectors would be harder hit by any new carbon taxes compared with other sectors (see chart below).
Carbon tax effect and implied net zero date
Percent reduction in EBITDA due to $50/ton carbon tax**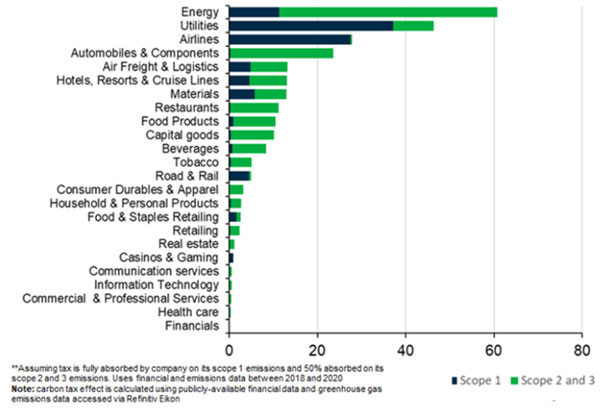 Source: Refinitiv Eikon/BNYM/Fathom Consulting. As of September 2022.
Speed of transition
Utilities is rated high risk for its transition speed because the report finds it is expected to decarbonize faster than any other sector, owing to greater pressure from regulators and investors and the relatively low cost of low carbon alternatives in this sector. The authors explain: "Decarbonizing quickly creates risks and increases the chances of existing assets becoming stranded." They add: "Being required to decarbonize quicker is likely to compound the risk of exposure to carbon taxes (and indeed, make the risk of carbon taxes materializing more likely). These risks are not just hypothetical: they are becoming real."
For example, some countries are planning on decarbonizing their electricity generation sectors by 2035 and are introducing legislation on carbon reductioni. Indeed, in June 2021 the UK government set in law a climate change target of cutting emissions by 78% by 2035 compared to 1990 levelsii.
Stranded assets
The stranded asset risk for these sectors is elevated also because they have a higher share of fixed assets that will likely need replacing to be consistent with net zero. "More asset-intensive industries, where those assets depreciate slowly and a high share of them need replacing to meet zero, will be most at risk," the report says. "The airlines, utilities and energy industries fall into this category."
Energy and utilities are particularly asset-intensive reflected by their lower ratio of market capitalization to property, plant and equipment (PPE) assets than the market average, according to Dhar and Davidson. Since 2014, the ratio of market capitalization to PPE for the S&P 500 overall has risen significantly, yet it has fallen in both the airlines and energy sectors. The ratio has increased slightly for the utilities sector (see chart below).
Market cap to PPE, selected S&P 500 sectors
Ratio (both axes)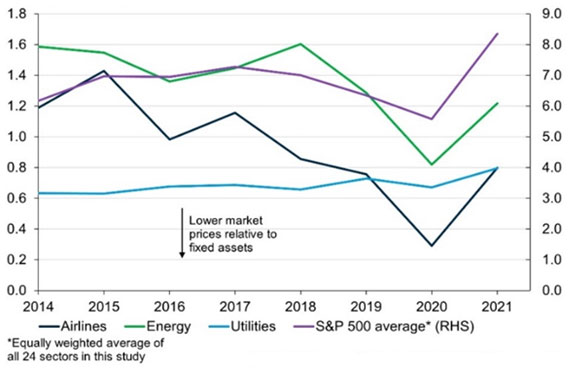 Source: Refinitiv Eikon/BNYM/Fathom Consulting. As of September 2022.
Climate concerns
The report points out all three sectors tend to be asset-intensive, meaning this ratio is typically lower in these sectors than the market average. Another interpretation is that this reflects a discount compared to other sectors for climate-related considerations.
Some investors may have avoided these sectors on the belief they are responsible for a high share of carbon emissions, the report states. Additionally, some investors could be concerned about these companies' ability to make adequate green investments and/or the cost to their bottom line of doing so.
However, the report concludes: "For the transition to be achieved, investors must dedicate more funds to these sectors; and for maximum effectiveness they must do so to the companies that have credible decarbonization and green investment plans."