October 2022
 
After a period of underperformance, value stocks have started to experience a resurgence, according to Newton Investment Management senior portfolio manager Brian Ferguson.
Highlights:
New economy companies Meta, PayPal and Netflix among the Russell 1000 Value Index constituents
Value stocks could make comeback after more than a decade of being outperformed by growth stocks
Pent-up demand may favor companies that experienced suppressed earnings and cashflows during the pandemic and in turn during the current economic slowdown
Value stocks may conjure an image of tried-and-true companies your grandmother fondly recalls. But the perception that value stocks are only "old economy" companies isn't accurate, according to Newton Investment Management senior portfolio manager Brian Ferguson.
"Those generalizations have held true over time for most of the past 20 years, but it's not always the case," says Ferguson. "We and the style benchmarks1 are finding more examples today of new economy companies that are trading at more attractive valuations."
Many people may be surprised to learn Meta, PayPal and Netflix are current constituents in the Russell 1000 Value Index2.
The definition of a value stock is evergreen3 – tied to stock prices that are at a discount in comparison to the present value of future cashflows. What does fluctuate, however, is which companies fall into the value category. This is fluid because market prices and company prospects change all the time.
"Any company, regardless of one's perception or historic growth rate, can potentially become good value and trade at a discount to the present value of its future cashflows," says Ferguson.
Nobody puts this into perspective better, in Ferguson's opinion, than Warren Buffett:
Common yardsticks such as dividend yield, the ratio of price to earnings or to book value, and even growth rates have nothing to do with valuation except to the extent they provide clues to the amount and timing of cash flows into and from the business. Indeed, growth can destroy value if it requires cash inputs in the early years of a project or enterprise that exceed the discounted value of the cash that those assets will generate in later years. Market commentators and investment managers who glibly refer to "growth" and "value" styles as contrasting approaches to investment are displaying their ignorance, not their sophistication. Growth is simply a component – usually a plus, sometimes a minus – in the value equation.
Value in value
Value stocks are akin to finding a great bargain at the store. Buying good value has been efficacious over time.
"If you look at the 150-year market history, value has outperformed," says Ferguson. However, that hasn't been the case for the majority of the past 14 years4. "Given over a decade of value underperforming the market, value has become inexpensive relative to its history. There has never been more value in value."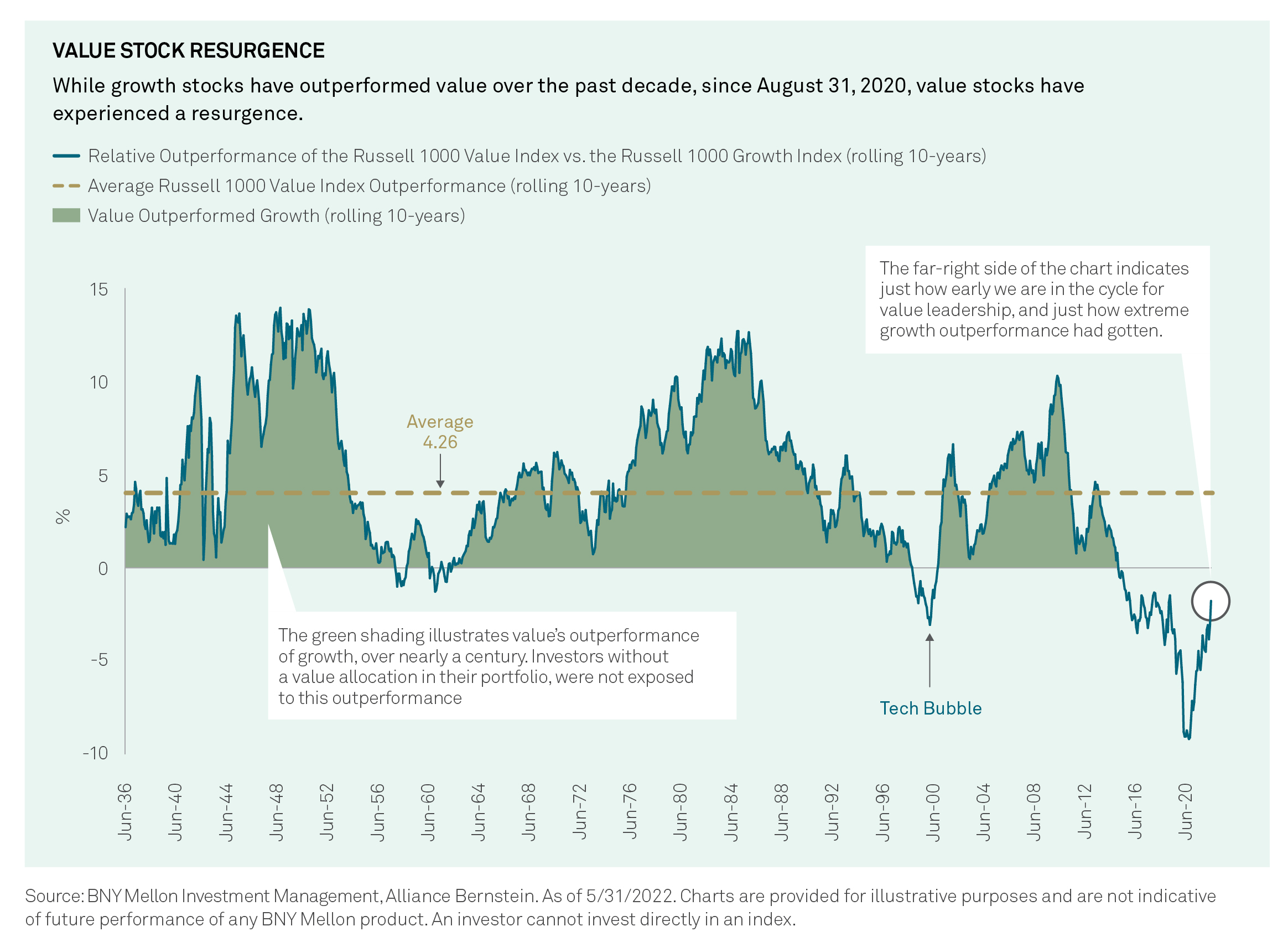 Value's potential trap
A value trap is when an investment looks statistically cheap based on industry accepted value measures, such as price-to-earnings or price-to-book but is actually poor value.
In recognition of that, Ferguson has adopted a philosophy that starts with, and doesn't stop at, value. In addition to finding attractive value opportunities, he focuses on improving business fundamentals and business momentum.
A current example of improving business momentum can be found within the health care industry. "There is business activity that was below normalized levels that is starting to return," says Ferguson. "Not many people were having elective procedures during the pandemic. We have a real pent-up demand for procedures like knee replacements. Waiting two years doesn't make it go away, it gets worse!"
To help control for the risk of being "too early" and caught in the value trap, Ferguson also focuses on business fundamentals. "Are they (the company) good or getting better?" says Ferguson. "Think of things like the balance sheet and liquidity of the company because tough times happen."
A good example hails from 2008. "Bear Stearns was trading at a low book value and at a very low price-to-earnings ratio of current year's earnings. It was cheap to the market, cheap to the company's history, but it was a value trap," says Ferguson. "The bottom line is that the book value was not real, those earnings from the current year, the trailing year, and even the estimate were not sustainable because there were very large holes in the balance sheet that took some time for the market and the company to have to fess up to."
Value has no shelf life
"Value is always relevant," says Ferguson, noting that getting your money's worth matters in good and poor economic times. "It always matters what you pay for any asset. Who wants to pay more for an asset than what it's worth? You don't want to do that for a car. You don't want to do that for a house. You certainly shouldn't do that for a stock."