September 2022
 
How important is the social side of ESG and what challenges do inclusion of social goals within portfolios and data management on this present to investment managers and their clients? Here managers from, Newton, Insight and Walter Scott share their views in a special responsible investment Q&A.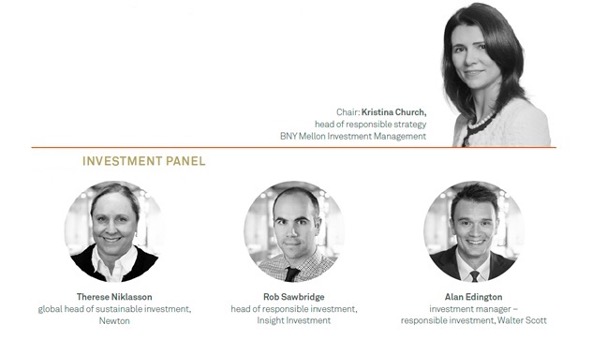 Church: How would you define a 'just transition' and is it possible to tie social elements into a broader more climate focused agenda?
Niklasson: It is very difficult to separate the social aspect from anything investment managers do on the environmental side. The net zero pledge and the effort of investors to try and do their bit and really understand the energy transition around the world brings to life the importance of a 'just' transition. We have been though many stages of deep economic and social shifts throughout history – all the way back to industrialization. Today's shift towards a low-carbon economy needs to be not just environmentally sustainable but also economically fair and socially inclusive.
There are pros and cons to transitioning our energy generation. About 18 million people work in jobs that directly support the energy industry. Some forecasts suggest we might lose millions of jobs by 2030 as we shift to a low-carbon economy. But there are also forecasts of new employment opportunities, with the low-carbon economy being forecast to create over eight million new jobs1.
Church: Working collectively is increasingly more important in engagement. What key trends are you seeing on the social side?
Sawbridge: A just transition – and the social responsibilities tied up with this - cannot be delivered purely by companies. It's really important there is an investor dialogue with governments as well. That is something fixed income investors are really starting to explore and definitely should focus on.
Fixed income investment offers a unique way of enabling investors to target specific outcomes. Over the past few years, we have seen an explosion in the sustainable bond market and much of that market is defined by so-called "use-of-proceeds" bonds, typically green bonds, designed to contribute to specific projects and therefore outcomes. Looking ahead I think we will see much more use-of-proceeds debt issuance designed to achieve specific outcomes to help us with a just transition.
Church: On the sustainability side we can see a huge amount of growth opportunities emerging for both companies and investors. However, we cannot ignore the wider macroeconomic environment and the real-world impact of recent change such as the crisis in Ukraine. Has that event changed investment opportunities and investment risk in your view?
Edington: It has been interesting to see the various ways corporates have reacted to the Russia/Ukraine crisis. Some businesses have completely pulled out of Russia, while some healthcare companies providing critical products for human health have made the decision to stay and support their workers and the customers they serve there. There are a broad range of responses corporates can take in terms of decisions like these. It can be a balancing act.
Categorizing things and considering what is most appropriate in terms of the social side of ESG is really challenging from a bottom-up lens in Russia, just as it is when you think about a just energy transition in some of the more heavily polluting developing markets.
Church: On the social side of ESG, a lack of data is still a challenge. One set of values in one part of the world can differ very widely from another. Which areas of do you think offers value in making judgements? Can engagement be used as a key way to find out more data?
Niklasson: The challenges around data have evolved significantly in the past couple of years and the key issue is not so much a lack of data but how it is interpreted and used. It is hard to get universal alignment on the correct reporting methods.
When it comes to responsible investments, one size does not fit all.
Factors like gender diversity on boards for example are a very common statistic and data point that people look for. But is that really the best way to gauge whether a company is truly inclusive? Either way it is important to challenge the data and drill down beneath the surface of what might ultimately be quite superficial conclusions.
Edington: We do need reliable data to measure factors and outcomes on the social side of ESG. But provision of data in this area is in a bit of a mess at the moment. I would agree understanding the culture of a business does not come down to how many women there are on the board. There is a much bigger suite and range of questions needed to get a real understanding of how corporates 'tick'.
More widely we are seeing a proliferation of new data in this area but not all of it is helpful. A real risk we run with some of this 'datafying' of responsible investing is to think data will provide the answers when we are really only raising more questions.
Sawbridge: On the environmental side everyone understands the long-term sustainability and financial materiality are completely aligned. One of the issues in analyzing social factors is that there is not always an obvious link to current financial materiality. When you are thinking about social issues, you need to think about what your investments are actually trying to achieve, what the product that has been sold to the client actually is and making sure that the way it is invested and the way it uses data corresponds with that.
Church: In terms of client demand in the 'S' space are you beginning to see more focus in that area or are you still seeing climate/environmental concerns being the most topical issues within sustainable/responsible investing? Can investment funds really be structured to deliver on the social side?
Edington: I think where we still see most interest from investors is on the environmental side rather than the social side. Many we speak to are most interested in how they can optimize environmental and climate protections within their portfolios. There does appear to be a lot of demand for 'net zero friendly' portfolios, but how these could be reasonably structured is a point of some debate.
Sawbridge: Recent market research suggests there is a geographical split on how markets view the social aspect of ESG. Some US investors actually put diversity and inclusion above climate in terms of the importance of their objectives and where they want their investment focus. This would tend to be a less common view in Europe. Constructing social thematic portfolios does present some challenges as data in this area is still at a fairly nascent stage. That said, a number of social bonds do exist and are under development, and as the investment landscape evolves and definitions become clearer we definitely see this as a potential area for growth.
Niklasson: How investment managers assess and think about social issues in their process can be quite a challenge. A lot of underlying investors want to understand the objective of the products they invest in, including social aspects, and want evidence of achievement in this area. That said, many have different views on this and values and ethics can complicate conversations around the social side of responsible investing.