July 2023
 
Genetic medicine is still nascent, but the technology is constantly improving. Here, Newton healthcare analyst Matthew Jenkin explains why he believes genetic medicine is poised to potentially create functional cures for many diseases and shake up the pharmaceutical industry..
 Highlights
Global genetic medicines markets are projected to exceed US$70 billion by 20301
Genetic medicine showing promise in potentially curing conditions ranging from hemophilia to high cholesterol
Chronic conditions are the leading cause of the US$4.1 trillion in annual healthcare costs in America2
 There have been numerous advances in medicine over the years, but genetic medicine stands to have a great impact – creating potentially functional cures for many chronic diseases. In Jenkin's view: "the biggest disruptive change going on now is genetic medicine." In fact, the global genetic medicines markets are expected to exceed US$70 billion by 2030.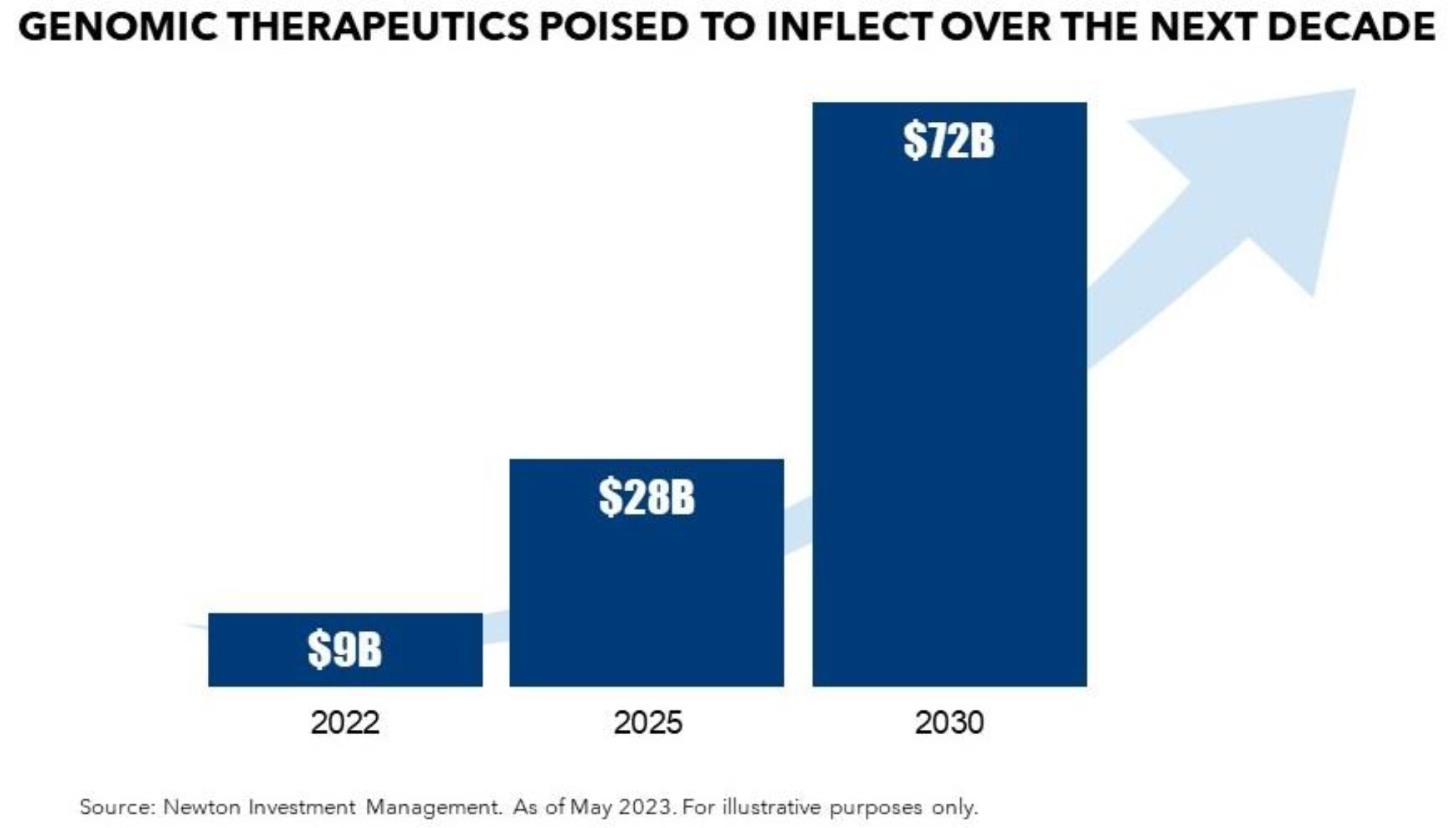 If you look in your medicine cabinet today, you'll notice the medicines are designed to treat symptoms of whatever ails you. If your condition is chronic, you'll be getting prescriptions filled for the rest of your life. Genetic medicine could change that.
Some conditions are caused by genes missing proteins or proteins not working correctly. With genetic medicine, your own DNA and/or RNA could be modified with specific proteins so your genes function normally. 3
"Over the very long run if you can create functional "cures" in many diseases, not just genetic-based diseases, the drug industry will have to adapt," notes Jenkin. "Today you are a repeat customer, in the future it might just be a one-time treatment and therefore they (pharmaceutical companies) can't count on you as a repeat customer."
Genetic medicine in action
One disease showing particular promise with genetic medicine is hemophilia, a genetic disease where people cannot clot their own blood. Currently, those with the condition must get weekly injections of a drug that replaces the factor VIII protein so patients can clot normally. With genetic medicine, those weekly injections could be a thing of the past.
"A gene therapy in this case essentially inserts a gene into the person's cell that is responsible for making their own factor VIII (in the case of hemophilia) just like healthy people have, and then that cell will divide and divide and divide," says Jenkin. "Once it divides, the factor VIII protein will rise to a critical level where the patient can form blood clots on their own, preventing bleeding episodes."
It's not just those with rare disorders who stand to benefit from genetic medicine. Conditions as mainstream as high cholesterol can one day be treated with such technology, Jenkins says. While current treatments of statins, oral pills and injectables work well for many patients, there is a portion of the population who never really get their cholesterol levels under control.
"Scientists have discovered one of the main culprits of high cholesterol is the PCSK9 gene. Some day with gene editing you may be able to turn off or silence that gene," says Jenkin. "If you eliminate the PCSK9 gene then the patient won't have high cholesterol anymore no matter what they do. Whether they eat cheeseburgers every day or they're genetically disposed to not being able to lower their cholesterol."
Jenkin expects adoption of genetic medicine will follow the traditional course seen with most new drug innovations. "There will be pioneers who will want to take it. People who are tired of weekly injections," he says. "The second group will be the fast followers, those who noticed the pioneers did quite well and they're still doing well. They're technically/functionally cured and saving a lot of money."
Sustainable healthcare systems

Hemophilia medications coupled with the costs associated with emergency room or hospital visits can be costly. While genetic solutions may be more expensive up front, in the long run it may ultimately end up being cost-effective, he notes.
"Once you've dosed with one drug assuming it's a functional cure, if you go out six or seven years, you've already covered the cost of what you would have cost yourself the payer, the government or the hospital system in treatments," says Jenkin. "If the medication is effective, it's kind of a no-brainer because the math works and everybody benefits." 
In Jenkin's view, one of the biggest problems with the healthcare system today is that it's overrun with patients with chronic conditions, which is the leading cause of the US$4.1 trillion in annual health care costs in America. With genetic medicine potentially curing diseases, resources can be better utilized.
"Not only are there labor and economic waste benefits, but think of the physical waste," says Jenkin. "Less syringes. Less dressings. You can think of a million things when you lower demand for services that healthcare capability could be used for lots of other things."