June 2023
 
An hour-long airport trip in a congested city reduced to less than 10 minutes? That could be a reality with electric vehicle take-off and landing vehicles (eVTOLs). Newton investment specialist George Saffaye discusses investment opportunities emerging from the latest technological transportation trends.
 Highlights 
Electric vertical take-off and landing vehicles (eVTOLs) are set to disrupt the transportation industry 
Hydrogen fuel cells have several key advantages over electric batteries 
Government funding for hydrogen is growing globally 
Electric vertical take-off and landing aircraft (eVTOL) and hydrogen fuel cells are two revolutionary advancements changing investment opportunities in the transportation sector, according to Newton's investment specialist George Saffaye. 
Finding companies that are benefiting from the tailwinds of advancements in transportation – and associated sectors – can be challenging, he says. "There will be losers, those that can't adapt and change with the times. Some, are already at the forefront but will they stay? There are so many opportunities and they are only getting bigger." 
A Jetsons future 
Saffaye believes eVTOLs have the potential to transform travel. An eVTOL is essentially an electric small passenger aircraft designed for short trips in cities. "The eVTOL segment is set to disrupt transport in the next 5-10 years as the technology improves and flight certification/regulation potentially allows them to become a new way of transport," says Saffaye. 
"Everyone should cast an eye towards these vehicles. They could be used for so much – ambulances, cargo, delivery, rescue services – short distances covered quickly," says Saffaye. "It's still may be too early for investing but it's coming. The efficiencies are extensive with enormous benefits, led by improved and new services, time savings, and so much more. It may soon be a powerful investment opportunity."

Power of hydrogen fuel cells
Hydrogen technology could also make waves in the transportation world, according to Saffaye. Hydrogen can enable vehicle refueling in minutes – not hours. Places like California already have around 100 hydrogen fueling stations – and the network is expanding, with the intention to have 200 in the state by 2025.1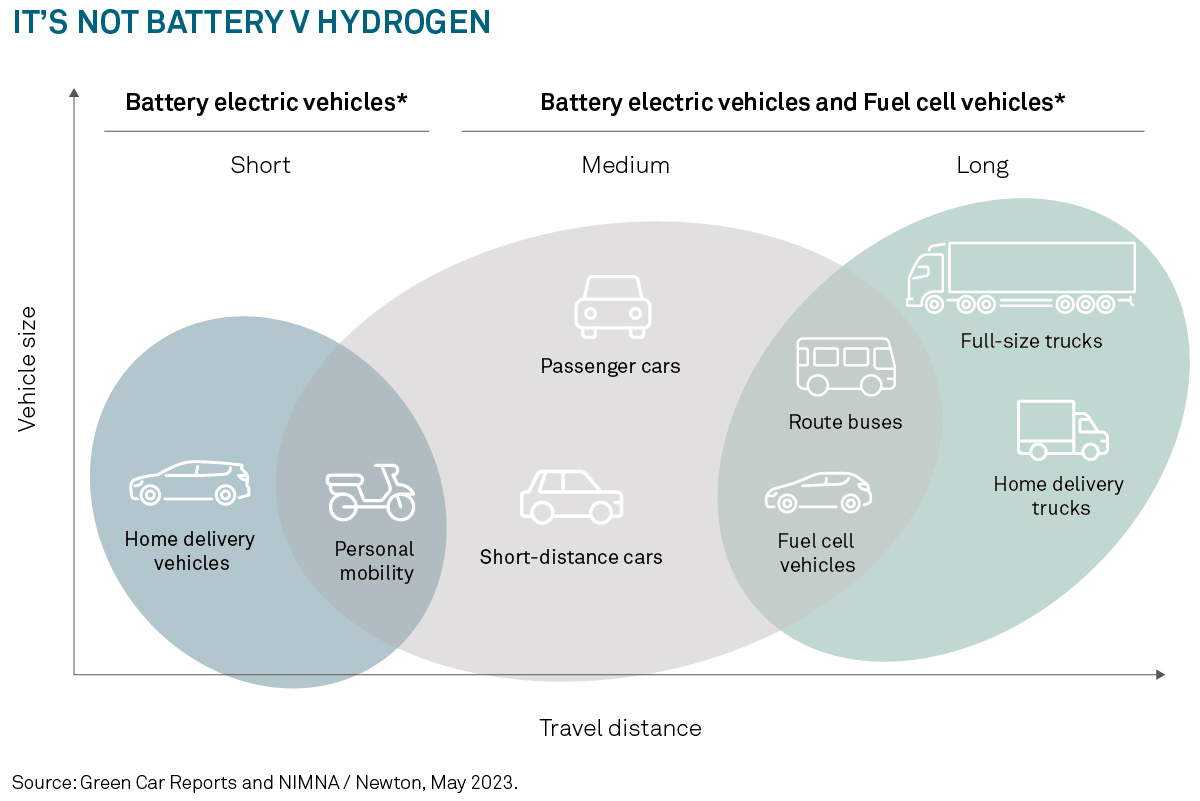 In the debate of batteries versus fuel cells, Saffaye says hydrogen has key two advantages over batteries: weight and speed.
Saffaye notes one of the main attributes of fuel cells is they are lighter than electric batteries. This is important as many roads have weight limits and therefore electric long-haul vehicles must reduce their cargo to compensate for their weight. Already the impact of heavier electric vehicles on roads has been noticed, he adds.
Government funding for hydrogen continues to grow, says Saffaye. Subsidies worldwide are expected to reach US$146bn over the next seven years – up 46% since January 2022.2 he adds: "The United States is set to outspend most other countries/regions with tax credits from its Inflation Reduction Act. Expectations are for US government hydrogen expenditures of up to US$13bn but they may exceed this mark."
Saffaye says with the amount of money committed to areas utilizing hydrogen technology, combined with the world's attention on net zero, it could be an explosive area of growth over the next few years. He notes: "When consumers can touch and feel things – it becomes real and the applications can see explosive growth – just look at the boost to AI by the release of ChatGPT."