Newton portfolio manager Miki Behr describes her route into the industry and what keeps her at Newton, as well as some of the secular growth themes she thinks investors should be considering.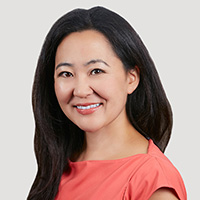 Miki Behr
Miki Behr is a member of Newton's equity opportunities team and a portfolio manager on the firm's US growth strategies, as well as the Food Innovation and Women's Opportunity strategies. She has been with BNY Mellon Investment Management – now specifically Newton – for 16 years. She started her career at a healthcare investment bank, advising companies on strategic growth opportunities.
Describe your role and responsibilities at Newton?
I am a portfolio manager on the US growth strategies which include US Small, SMID, Mid Cap, Large Cap and All Cap growth strategies. I'm also the lead portfolio manager on the Food Innovation strategy and a portfolio manager on the Women's Opportunity strategy. It might seem like these strategies are quite different from each other, but they all have a growth theme running through them. For example, within Women's Opportunity we look for stable growth ideas, while the Food Innovation strategy invests across the rapidly-evolving food complex which is being disrupted by new forms of technology – from precision agriculture and agrigenomics to robotics and automation-enhanced supply chains to blockchain enabled traceability.
How did you end up working in asset management?
I was a molecular and cell biology major at the University of California, Berkeley, and one of the things I love about science is that it involves constantly searching for answers and learning new things. I realised this was something I wanted to do in my professional career. Initially, I moved into healthcare consulting. Each engagement was different and allowed me to learn about new products, companies and challenges. However, I soon realized I didn't get to see the impact of my decisions or recommendations. Working within an investment bank, I worked alongside equity analysts and found within the space a profession that could offer that special blend of seeking answers with real-time feedback on the impact of these decisions. I decided to get my MBA at MIT Sloan School of Management and shifted into an asset management role. I joined The Boston Company Asset Management (TBCAM), which became part of Mellon and now Newton, as an intern in 2007, so I've spent 16 years with the company.
Why have you stayed with the company for that length of time?
It doesn't feel like work when what you do coincides with what you enjoy doing in your spare time. I like to read and learn, and in this job I get to do that every day. Newton has undergone a reorganization, but the core group has remained constant, and the team continues to foster a supportive and collaborative culture. Everyone is looking to find the best ideas through debate and discussion; no one is too fixed on their own role and egos do not conflict when chasing answers.
How would you characterise your style as a portfolio manager?
I am a growth investor, but I believe growth investing is often misunderstood. It is often viewed as valuation agnostic which is not the case. At its heart, growth investing is centered around identifying and anticipating opportunities. It is about understanding how disruptive innovation and business models can reshape markets and grow as a result. We need to understand and value the opportunities that those creating new economies present.
Why does the Women's Opportunity strategy present an exciting area for investment?
There is a large body of evidence which supports the view that having diverse management teams drives alpha. This makes intuitive sense because having people with different backgrounds – cultural, geographic, socioeconomic and gender – helps teams make better, more informed decisions. That said, there has been a steady decline in female workforce participation rates over the last decade. This decline accelerated during the pandemic as women – who often carry the disproportionate share of household responsibilities – found themselves struggling to balance both and choosing to leave the workforce as a result. There are ways companies can support more stable engagement by using a gender lens to shape decision making. Those companies that are more thoughtful around their policies – those that understand that a one-size-fits all approach fails – will do a better job around recruitment, retention and talent development. These companies will be better positioned and will have the right people in place to drive operational performance.
Why is food innovation such an exciting investment theme?
Food is structurally growing. The population is set to add 2 billion people over the next three decades and the UN expects caloric demand to increase by 60%-70% over this time1. Food shortages that resulted from recent events – the war in Ukraine, pandemic related supply chain disruptions – brought global focus to this issue. As the way we approach production and consumption today will be challenged to sustainably meet future demand, we need to find ways to do more with less. Maintaining agricultural yields while using less water, fertilisers and crop protection products – requires innovation. Finding ways to reduce food waste will require solutions across the supply chain. We believe great minds and companies are at work finding answers and see these innovations coming to market.
What other secular themes should investors be looking at?
Thematic investing is core to Newton and it is important to be positioned to benefit from these secular tailwinds. One example is healthcare where we expect a wave of innovation. Advances over the past few decades in computing power, analytical capabilities, and developments in our understanding of the genome and genomic basis of disease, are leading to the development of interventions and products. Another theme I'd highlight is the growing politicization of the global landscape. As schisms start to emerge between the East and the West, deglobalization and the localization of manufacturing will accelerate. I think there will be investment opportunities that arise from that as well.
What do you most enjoy about your job?
I love the fact that this job constantly challenges me. It requires me to constantly attempt to understand developments in the world around me. It requires that I continue to learn. Markets tend to be quite efficient and there are lots of smart people investing, so the challenge inherent in the space is unearthing what is being overlooked – what thread are people not seeing that connects two seemingly disparate events?
What's the best piece of advice you've ever been given?
Every day is a new day. We get new information and we need to constantly challenge our views to do well for our clients. There might be a thesis or view we have held for a long time, but it is important to remember the environment evolves and we have to be flexible and open to reflecting this in our views.
What issue should most concern investors at the moment?
We have experienced a regime change, moving from an environment where we had, essentially, free money to one where credit is tight. This impacts all types of investing whether value, core or growth. It is also resulting in a separation between quality companies and those that have until now ridden the benefits of the free money environment. As we emerge from this, the better companies will remain and grow. Identifying these winners will be key.
What do you enjoy doing outside of the day job?
Growing up in a rural area, I love being outside, hiking and camping. I also enjoy travelling and seeing new places. I have two children and it is a privilege to see them develop as people – supporting them from the sidelines as they discover and pursue their interests.