July 2023
 
Insight Investment senior portfolio manager for municipal bonds, Thomas Casey, reflects on the challenges and rewards of working in investment management, the growing appeal of the 'muni' bonds market and the many factors influencing its wider growth and evolution.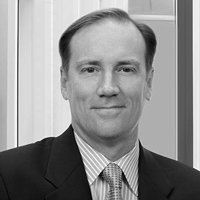 Thomas Casey
Thomas Casey is a senior portfolio manager, municipal bonds, at Insight Investment. He joined Insight in September 2021 following the transition of Mellon Investments' fixed income strategies to Insight. Thomas has been in the investment industry since 1989 working at what was then Standish, Ayer, & Wood and joined Mellon Investments in 1993 as a portfolio analyst on its US municipal team.
He is now a senior portfolio manager for municipal bond strategies responsible for managing municipal bond portfolios for institutional, insurance and high net worth clients. Thomas worked as an analyst at State Street Bank & Trust Company before joining Mellon Investments.
What does your day-to-day role at Insight involve?
I am a portfolio manager within our municipal bond team and feel fortunate to have been with the same group for almost 30 years. On a day-to-day basis, I am primarily focused on managing tax exempt bond portfolios for a variety of clients who can potentially benefit from attractive after-tax yields offered by the municipal market. Notably, our clients have a wide variety of risk tolerances and objectives so making sure the risks inherent in a portfolio accurately reflect those goals is a critical part of my job. These goals can be quite dynamic, and I enjoy engaging in dialogue with clients and consultants to develop and build fixed income solutions for their specific needs.
How did you first get into the investment management business and what attracted you to it?
Even when I was quite young I had a strong interest in the behavior of markets and was intrigued by the way individual assets behaved. My father encouraged my interest in financial markets and spent time with me as a youngster explaining how they worked and the factors that affected them. Originally, my interest was focused on traditional equity markets and as a student I became fascinated by macroeconomics, the effect on financial conditions and traditional valuation techniques for individual securities. In retrospect, I was also drawn to the intellectual challenge and competition of pitting your best ideas versus an index or someone else.
What prompted your entry to the municipal bond sector?
My path was largely a combination of hard work, good timing, and good fortune. When I joined Standish, Ayer, & Wood after graduate school I realized quickly that it was a special place. It had a tremendous reputation, filled with smart people who were dedicated to their clients and took great pride in their profession. Importantly, the collaborative work environment was also readily apparent and engrained in the culture.
After working on a number of projects for its taxable bond team, I received a call out of the blue from a partner and the head of the municipal team which would change the course of my career. She explained that the municipal team had grown significantly, and needed help with its burgeoning account load. When discussing their needs with her fellow partners, several, who I had already done work for, suggested that she speak with me.
Fortunately, when we did speak we hit it off and after meeting with other members of the team, I was offered a position as an assistant portfolio manager. It was a leap of faith for both of us but I was quickly enamoured with the world of municipals. At that time there was a tremendous lack of transparency in the market. 'Munis' were an opaque asset class and I developed a great interest in attempting to identify and unearth information about securities which was not readily available to other investors. It was a unique opportunity to be involved in a market that could potentially offer great value for investors. I have been incredibly fortunate to have benefitted from mentors who took an interest in me and my career as well as wonderful colleagues all along the way. Without their help and that call (which I think of often) my career would likely be very different.
What do you most enjoy about working within the asset management business?
Investment management offers a dynamic environment where market conditions and valuations are constantly changing. The job presents challenges on a daily basis in a variety of ways. Intellectually it can be very stimulating, and I enjoy the rigor of applying experience, new information, and a host of variables in order to produce a solution that meets a client need and/or objective.
I have been extremely lucky to work with a lot of wonderful people who are smart, humorous, skilled, and take their responsibilities seriously. I have also been lucky enough to work with some fabulous clients and consultants who are engaged, thoughtful and helpful. That is a very hard combination to beat.
I enjoy that no two days in a row are alike and that the markets can be very humbling. Although I realize that my job is not everyone's 'cup of tea', it suits my personality. Some days things go as you would expect and other days you make good decisions and don't get the results you want. To me, part of the challenge is knowing that, irrespective of the fundamental credit quality, price or values of individual municipal bonds can be influenced by a huge range of external factors beyond your control.
Staying on top of all this information is both challenging and rewarding work. Insight Investment manages both pooled fund structures and, within our own dedicated municipal bond group, we also seek to create bespoke portfolios for individual clients which are carefully designed to match their needs.
How optimistic are you about municipal bond market prospects?
Although the direction of interest rates and magnitude of change are hard to predict, we have a constructive view of the market longer term. Importantly, we are experiencing higher nominal yields and wider spreads than we have for a long time. This is, in our view, creating some solid longer term investment opportunities. We see some particularly compelling opportunities emerging in the revenue bond sub-sectors, more specifically in the essential service revenue bond market such as water & sewer and utility/power1. This includes bonds that help fund public services and which tend to offer investors a wide variety and a greater diversity of revenue sources than some other public debt instruments, such as general obligation bonds2 whose sources tend to be more cyclical in nature. Using a shorter-term perspective, the summer months have historically provided some solid results for municipals due to a favorable technical environment (heavy reinvestment demand and manageable supply).
How would you describe your investment style?
We employ what we believe is a unique blend of top down and bottom-up investment approaches. The significant experience of our team and our collective wisdom is the basis of everything we do. While we always have a view on interest rates, it is generally deemphasized in favor of a rigorous fundamental approach as our goal is to identify stable to improving credits that can offer an opportunity for price appreciation. Importantly, we employ a very disciplined risk management framework in order to objectively evaluate risk and rewards. As a result, we can dial up or dial down risk depending on individual client needs or market requirements based on the opportunity set that is available at any given time. We believe we have the size to be influential but are nimble enough to take advantage of opportunities within the municipal bond market whenever they present themselves.