May 2023
 
ETFs turned the big 3-0 in 2023! When the first exchange-traded fund (ETF) launched on January 22, 1993,1 few could have imagined how popular this form of investing would become. By 2022, global ETF assets rocketed to almost US$10 trillion.2
The 90s were an era memorable for beanie babies, fanny packs, "the Macarena" and…. ETFs! While there was just one U.S. ETF in 1993, that number reached nearly 1,000 in 2009.3
ETFs have come a long way from "plain vanilla" access to select, and well-known indices to actively-managed ETFs, fixed income offerings as well as specialist "baskets" following a defined theme. Today, US ETF launches outpace mutual funds.4 More than 400 new ETFs were launched in 2022, accounting for 72% of all fund launches when compared to mutual funds.5
ETFs popularity extends beyond the US borders. By 2022 there were more than 8,750 ETFs trading around the world.6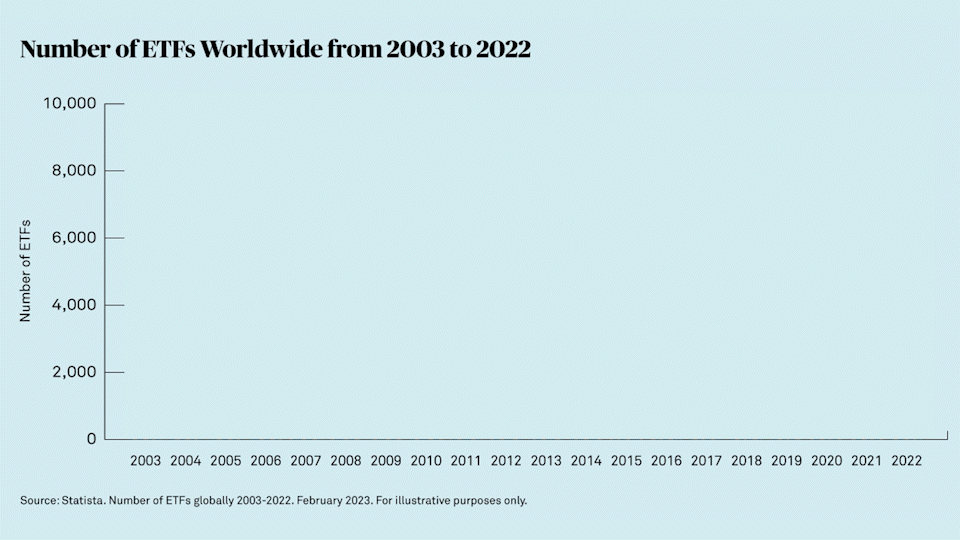 Understanding ETFs
Since their introduction, investors have found plenty of uses for ETFs given their ability to offer a direct way to quickly invest in a diversified set of securities and asset classes. In many ways, an ETF is like a hybrid between a stock and a mutual fund. Like a mutual fund, an ETF can be actively managed or built to track the performance of an index. Similar to stocks, an ETF can be bought or sold on an exchange with varying share prices throughout the day.
ETFs are comprised of many underlying assets, such as stocks, bonds and commodities across an array of industries. Investors can also utilize ETFs as long-term core holdings or as an expression of tactical asset-allocation views.
Advantages of ETFs
The appeal of ETFs and their use by investors ranges widely from those who utilize them as cost-effective tools for diversification, to those who use them as the base for core portfolios.
Here are some potential benefits of investing in ETFs:
Liquidity – Dependent on composition and trading volume of underlying securities, ETFs can be created and redeemed on demand.
Transparency – Investors can see what they own daily (as opposed to quarterly), at the conclusion of each trading day.
Tactical allocation – Quick and easy to transact, ETFs can be bought and sold the same as a single stock.
Moderately low transaction costs – ETFs are considered more cost effective than mutual funds because they typically have lower expenses. However, since buying or selling ETF shares on an exchange may require the payment of brokerage commissions, trading activity may increase the cost of ETFs.
US tax efficiency - Investors are generally not affected by the liabilities related to the redemptions made by other shareholders.7
How ETFs work: Step-by-step
The ETF ecosystem comes together in a seamless manner to facilitate buying and selling ETF shares. Like many industries, each party plays a critical role to ensure the supply chain can efficiently meet the demand of investors for all listed ETFs.
Here are a few key terms to help understand how ETFs work.
Authorized Participant – A large broker/dealer that acts as a bridge between the exchange and the issuer. They help ETFs trade at prices close to the market value/ net asset value (NAV) of their portfolio holdings. Shares are issued/redeemed to Authorized Participants in large blocks, known as "creation units."
Market Maker – A dealer that buys or sells at specified prices at all times; also known as liquidity providers.
Premiums and Discounts – Due to surges in either demand or supply- an ETF can sometimes trade at either discount or premium to the value of its underlying assets. ETFs generally trade close to their NAV due to the creation/redemption function. When trading at a premium, Authorized Participants will create more shares to add supply to the market and vice versa.
Primary Market – Market where ETF shares are created and redeemed.
Secondary Market – An exchange where ETFs are traded, such as the New York Stock Exchange.

Buyer initiates request, which is often done through a brokerage account
The order goes through a Market Maker, which can be done on the Stock Exchange or in the over the counter (OTC) market
If new shares are needed, a Market Maker will work with an Authorized Participant to place an order to create new ETF shares with the ETF Issuer
ETF Issuer creates new shares of the ETF
ETF shares go back to the Authorized Participant
Authorized Participant sends ETF shares back to the Market Maker
Market Maker sends the shares to the Buyer
History of ETFs

ETFs have evolved considerably over the years, changing the investment landscape. Here are some of the ways ETFs have grown to become a mainstream investment vehicle.