The BNY Mellon Brokerage Account is a high quality and cost effective way to manage your investments. You can trade and control your investment portfolio online, with access to financial quotes, news, investment ideas, market commentary and more. Open an account.
SIMPLIFY YOUR LIFE. CONSOLIDATE YOUR FINANCES.
The BNY Mellon Brokerage Account — with a roster of comprehensive tools and unique services — is a full-service brokerage account designed to help you confidently and effortlessly take control of your financial future. Call 1-800-843-5466 to learn more.
Position yourself for financial success — put an all-in-one investment resource at your fingertips.
ONE ACCOUNT, COMPREHENSIVE RESOURCES
The BNY Mellon Brokerage Account allows you to house all your assets, including retirement accounts, in one easy-to-manage investment account. The BNY Mellon Brokerage Account offers check-writing and debit-card privileges, online trading1 at competitive rates as well as consolidated statements to help you keep track of your future. Download a paper application or open an account online. Learn more about investing with us.
INSIGHTS AND REAL-TIME TOOLS
Our robust website features market/portfolio tracking tools, financial quotes, news, investment ideas, electronic delivery of statements and confirms, market commentaries and more.
INVESTMENT CHOICES
We offer a breadth of investments, including over 8,000 mutual funds from BNY Mellon and other leading companies, exchange-traded funds (ETFs), individual stocks and bonds, options, and the BNY Mellon Managed Asset Program.2
ALREADY A CUSTOMER?
Login to your account.
Please see our Form CRS Relationship Summary for additional information about our firm and the services we provide.
Contact Us
Brokerage Account Representatives are available Monday through Friday, 8:00 a.m. to 6:00 p.m. Eastern Time.

1-800-843-5466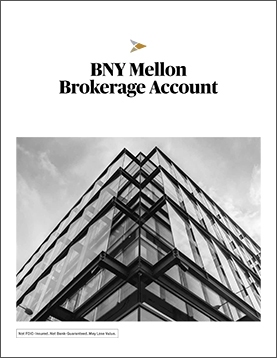 BNY Mellon Brokerage Account Brochure
Learn More about the benefits and features of the BNY Mellon Brokerage Account
Download Insight